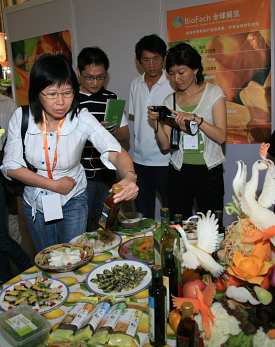 The interest in organic food is increasing in China. Photo: Nürnberg Messe

The Worlds largest organic fair - Biofach - is constantly developing and not least in other parts of the World than in its homeland Germany.

Latest Biofach has established an organic fair in Shanghai which opened for the first time in 2007 and have recently taken place for the second time.

In the metropolis Shanghai there is a growing interest in organic food and this interest also shows in the numbers of stands and visitors at Biofach in the city. Even though the fair is much smaller than its greater sister in Nurnberg it is growing every year and attaching more and more interested both in China and abroad.

In 2011 the number of visitors on Biofach China increased with 27% to 14.613 (11.526 in 2010). The number of exhibitors at the fair was 342 (2010: 313), of theese 13 percent where international while the rest were Chinese.

In still is interesting that the number of exhibitors increased with 17 percent compared with the year before. There are now 242 stands at the fair.

Even the growth seems to grow. In 2008 the Shanghai fair had 9.143 professional visitors - an increase of 25 percent compared with last year. The number of exhibitors where 242 - an increase of 17 percent compared with the year before.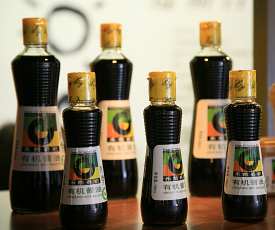 Photo: Nürnberg Messe
Especially remarkable is that Biofach in Shanghai has started to attract exhibitors from other parts of the World. Last year the fair consisted of almost exclusively Chinese stands but this year 24 overseas companies had come to Shanghai to open a stand on the fair.
There was exhibitors from Belgium, France, Portugal, Italy, Germany Canada and USA. Of course there the closer East Asian markets in Hong Kong, India and Taiwan was represented too.
Simultaneously with the fair the was an organic congress in Shanghai which attracted 300 participants in 2011 (180 participants in 2008).
Biofach in Shanghai will be held next time at 24th - 26th of May 2012.
The fair takes place in at the expo center
Shanghai World Expo Exhibition & Convention Center
Besides Biofach in Shanghai there two more Biofachs in Asia. One is held in Tokyo and one in Bangalore in India.
There is another organic expo in China pla. OCEX - The Organic China Expo - is placed in Beijing. The fair usely takes place in November in the China World Exhibition Hall.
Eventually read more about Biofach in Shanghai at www.biofach-china.com