Copenhagen Fashion Week:
Tina Casmose goes organic
7th August 2008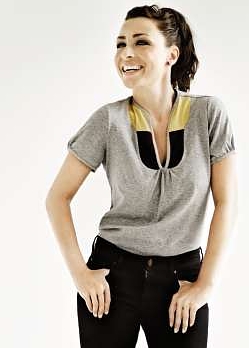 The Danish singer Szhirley with organic top from Tina Casmose. Photo: Henrik Adamsen
At the opening of Copenhagen Fashion Week the Danish designer Tina Casmose presented a new organic collection with the name Eco - Not Ego.
Part of the collection is especially for the Danish market and is developed in cooperation with the Danish section of World Wildlife Fund. As part of the cooperation Tina Casmose donates all profit from selling this series to the World Wildlife Fund.
The shops selling the textiles will give 13 percent of the sales price to the World Wildlife Fund too.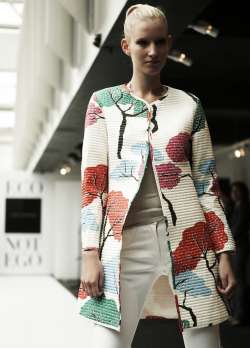 From Tina Casmose's presentation of Eco - Not Ego in Copenhagen
The main part of the collection however will be sold in England, USA, Dubai, France, Benelux and other places.
Tina Casmose has been working with organic textiles for many years but only now she sees the possibility of going fully organic because the interest in the fashion business is now much more focused on organic and environmental issues.
This year 75 percent of her full collection will be produced of organic cotton, bamboo and silk but already next year she expects that all will be organic.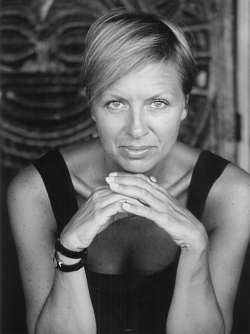 Tina Casmose
The main part her collection is produced in southern China where she find there is already a growing expertise in environment friendly textile production. However she worries to see that already some producers now move to other - cheaper - parts of Asia where there is no experience in organic production.
Tina Casmose's organic collection will be certified by the GOTS standard. Today only the textiles are certified but now also the sewing and other parts of the production will be certified to make a full organic labelling possible.
See also the homepage of Tina Casmose.