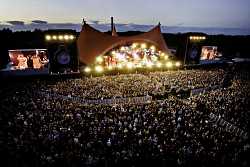 The famous Canoby Scene which every year attracts around 80.000 young people in Roskilde. Photo: Roskilde Festival
This month the Roskilde Festival receives a Green World Award for its environmental-friendly initiatives.
The award is given by Reed Midem, the biggest professional fair of the music industry. 2008 is the first year that the award is handed out.
Roskilde Festival is the largest music festival in Northern Europe. Every year it attracts 80.000 young people all over Europe who come to see and hear the some of the leading rock bands in the World.
Since the beginning of the 1990'ies the Roskilde Festival has had focus on the environmental issues. Many places at the festival it is possible to buy organic food, and the official festival T-shirt is made of organic cotton.
The festival has introduced decomposable tableware with forks and knifes made of maize starch. For beverages the festival has introduced a refund system for cups with a success rate of 97 percent of the plastic cups returned to refund stalls.
The Roskilde Festival has also had initiatives to support charity projects in the third World and other places. In the last years the Roskilde Festival has asked their guests to give their used camping equipment after the festival to charity organizations.
The Roskilde Festival is arranged by a non profit organization - The Roskilde Festival Charity Society. Every year the society is supporting charity and environmental purposes. Among others the Roskilde Festival has supported the World Wildlife Fund and Doctors Without Borders.
In the coming two years the Roskilde Festival will have its focus on climate changes and global warming. A number of projects will be initiated in cooperation with companies, universities and NGO's.
The Roskilde Festival is placed in the city of Roskilde which is placed only 20 minutes by train from Copenhagen.
In 2009 Copenhagen will host the Climate Conference were world leaders try to agree on a new protocol to replace the Kyoto Protocol to reduce the CO2 emission.